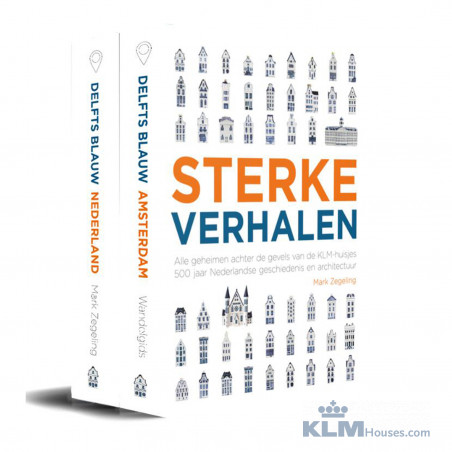  
Book 'Sterke Verhalen'
No tax
Shipped within 5 working days
Sterke Verhalen, alle geheimen achter de gevels van de KLM-huisjes (dutch version)
For the English book click here

Secured order and payment

All parcels sent insured

In-store exchange
For the English book click here
Sterke Verhalen, alle geheimen achter de gevels van de KLM-huisjes
Herinneringen zijn ons kostbaarste bezit en komen vaak door iets kleins tot leven. Daarin schuilt ook de kracht van een souvenir. De Delfts blauwe KLM- huisjes zijn gemodelleerd naar bestaande monumenten uit heel Nederland. Ze zijn gevuld met verhalen over de geschiedenis, die je verrijken met kennis en kunnen inspireren. 
Op 7 oktober a.s. presenteert KLM haar nieuwe huisje 103, achter alle gevels schuilen de mooiste verhalen. Maak kennis met de bewoners van (nationale) monumenten, waaronder leden van het Koningshuis, ondernemers die van hun naam een wereldmerk maken en pioniers voor wie de sky de limit was. 
Deze uitgave verschijnt ook in het Engels onder de titel Little Kingdom by the Sea, a celebration of Dutch cultural heritage'
Sterke Verhalen/Little Kingdom by the Sea verschijnt medio oktober in 2 delen in een fraaie cassette: 
Deel 1. Delfts blauw Nederland (576 pagina's, full color, 115 x 161 mm)  
Deel 2. Delfts blauw Amsterdam (470 pagina's - full color 115 x 161 mm). 
Customers who bought this product also bought: